Works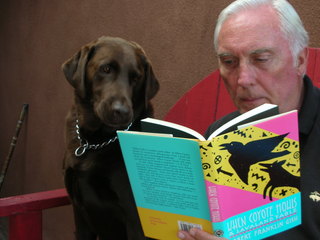 Magic realism meets myth in the real and imaginary efforts of two small towns when they face encroaching corruption and evil.

"For many years Robert Gish has written critical and creative literature of singular intelligence, complexity, and grace. His new novel, River of Ghosts, is an extraordinary meditation on our nation's immense abundance, vitality, eclecticism-and our eternal undercurrent of displacement, anger, and violence. Halcyon and harrowing, disturbing yet wonderfully lyrical, often elevating, sometimes mephitic, this remarkable book about a place, people, spirit fish, and Gaia will intrigue, provoke, frighten, and delight you. And will give you the best construal of Buffalo Bill you'll ever encounter."
--Peter Glassman
"River of Ghosts explores the disarmingly complex territory of an Iowa region. Mapping the latest trends in American society as well as the ancient legends of Native time, Robert Gish bestows both surface realism and spiritual depth on that territory. The result is a winning combination."
--Wayne Franklin
These interlocking stories begin with foundation tales of the migration of JJ, and his wife Naomi, and their son Otis from their chaotic family beginnings in Tulsa, Oklahoma to their settlement in Albuquerque, New Mexico in the 1920s. Stories in the second section treat Otis' coming of age amid the shifting fortunes of his family and friends. The third section considers events ranging from family folklore to disturbing and tragic events in other peoples' lives in the same place and time.

The work is unified by a common image of fate settling where it will, with people being tossed about in a world that appears to have lost control. From the Tulsa race riots of 1921 to Buck's last coon hunt, we are never left in a comfortable place, though we may see after the fact a rough justice at work. Gish recalls a world where although the workings of Providence are hard to fathom and their outcome is often hard to bear, they are what we must accept because our very lives are built on them.
Stories about "the West" are often associated with cattle drives, cowboy and Indian standoffs, bad men in black hats, and rugged pioneers. First Horses: Stories of the New West is an original collection of fourteen stories in which Robert F. Gish describes a multiethnic, contemporary West that encourages the reader to see beyond the stereotypes of the Old West. All of the stories depict the emotional and psychological costs of the prejudices and injustices of the Old West that have carried over into the twentieth-century New West.

Gish's vivid storytelling technique utilizes compelling voices and gritty characters: the regulars at a small-town café; the local rodeo with its manly contests; the staged fiesta with its attempt to recreate traditions; a young stripper at a honky-tonk tavern; the classrooms and playgrounds of public schools with their mix of Anglo, Mexican-American, and American Indian youths; and the fields where taboos of interracial romance evaporate into the cloudless blue sky and the churning, muddy irrigation waters of the Rio Grande.

The unifying theme of these short stories is a subtle plea for harmony and mutual respect among the inhabitants and the landscape. Violence, racism, sexism, and environmental pollution prove to be the remnants of earlier insensibilities, residues in need of recognition and disavowal. Many of these stories, told in varying voices of male and female, Anglo and Hispanic, young and old, trace this recognition along the turbulent paths of initiation as one generation learns about its own special concerns in the shared heritage of others.

All fourteen stories in First Horses are set in the sometimes magical, sometimes brutal Southwest. Cutting through class and ethnicity, each story illustrates how a land and a history determine a people and are determined by them.
Bad Boys and Black Sheep explores the complex intersections between myth and personal choice, intentional mischief and fate-driven misadventure. His characters are men of all ages and backgrounds who come to a crucial moment of existence when they must confront the consequences of their past.